Fall 2016 Women in STEM Scholarship Winner
Andrea Flores
Congratulations to Andrea on winning the Fall 2016 scholarship. Andrea is studying for a Masters in Cybersecurity with an emphasis in Computer Forensics from Utica College. We asked Andrea to describe how an app made a difference in her life. Here's what she had to say...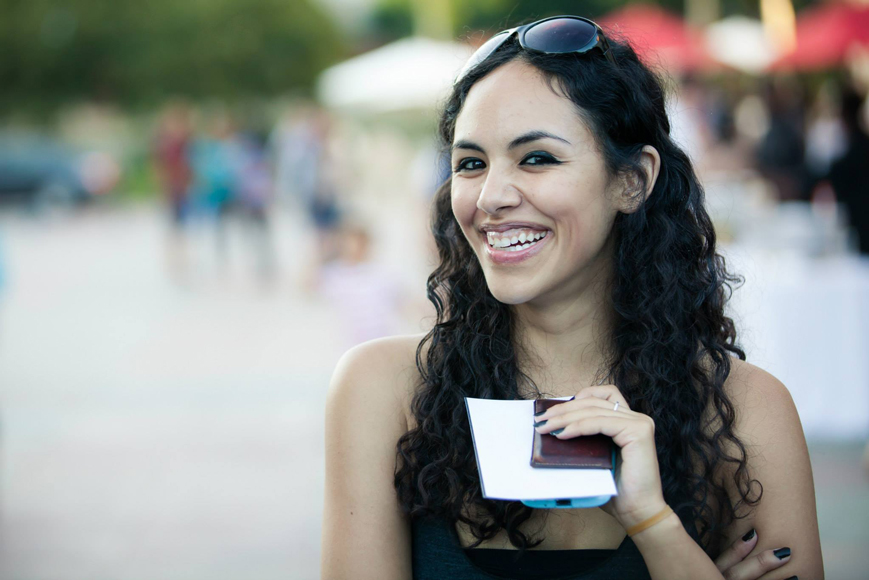 I have a huge crush on Idris Elba.
I'm not ashamed to admit this. He's incredibly popular these days and potentially a future James Bond- but my crush on Idris began years ago when I started watching the BBC show "Luther". Truth be told it was probably a combination of Dris-charm and my being a sucker for procedural cop dramas, but regardless, I was hooked.
Prior to season three airing in the United States, I read that something 'horrifying' happened in the first episode's opening scene. I kept this fact in the back of my mind knowing I would watch the show anyway. Sure, I'm not a fan of scary movies (and watch with my eyes closed if dragged to one) - but how bad could it really be? Chalking it up to hyperbole, I crawled into bed when the airdate came - ready to watch Luther catch some bad guys.
(If this were a blog, I'd post a "Spoiler Alert" here. I hope you've seen the show because I don't want to ruin it for you.)
Season three. "Luther". It's nighttime. A young woman returns home. She makes some tea and gets undressed. She sits on her bed and takes off her heels. Young woman gets into bed and turns off the light. Man crawls out from underneath woman's bed.
I walked out of my bedroom.
'Horrifying' has never been such an understatement.
I live alone in a small house in a suburb of Los Angeles. While having my own place is a coup in this city, it comes with some tradeoffs - the largest of which is my safety. The downside to not having roommates is that no one will know if I don't make it home at night (or if I get killed by the guy who has been hiding under my bed for hours).
My favorite app is Kitestring. While it's an SMS-service and not a mobile based app, Kitestring is one of the smartest app ideas I've encountered. The premise is super simple - with the user texting the Kitestring service an ETA of how long they'll be gone. If the user gets back before their estimated ETA, or 'trip' as Kitestring refers to it, they check in with the service - sending their personal check-in password as the confirmation. If the user does not check in, Kitestring immediately notifies the user's emergency contact. Kitestring also allows users to send duress codes. If a duress message is sent at any time during a user's trip, the emergency contact will be immediately notified. The service is free for fifteen trips a month - or $3 a month for unlimited trips and the service will also provide check-ins if the user wants.
Kitestring isn't the type of app that people sit around discussing. It's not a weird and ridiculous Kardashian game or the next scheduling app that's going to finally be 'the app' that organized your life. Kitestring is peace of mind and what I like about Kitestring is the simplicity of it. There doesn't appear to be a full-fledged company behind the product, but rather one main programmer and a simple tagline 'A virtual overprotective mom.' The product isn't aimed at any one main demographic - so it doesn't feel like it's pandering. For me this is really important. While this app obviously helps my single, young professional female demographic - it's also a useful tool for runners or tourists. Another thing I love about the app is that it doesn't require much from me. There are other safety apps- but I've found their safety triggers to be too sensitive, sending out false positives. One app sends a distress signal each time you shake your phone - and when I had it installed I repeatedly sent my sister SOS calls simply by walking around at my office.
Kitestring has become a reliable tool for me over the past few years - I use it consistently when I go out. I feel safer knowing that the app exists and I'm extremely grateful for it. For what it's worth, I usually send my confirmation text after I've checked under my bed for murderers.
Just in case.