Why Do I Need a
Mobile App?
Mobile apps have become absolutely essential for small & large businesses alike. Companies live and die by the quality of their customer relationships, and a mobile app provides a robust platform for you to build those bonds. It also makes it easy to find new customers, and to push both engaging content and specialized promotions to your fans. In a nutshell, a mobile app helps you stand out from the crowd, building brand loyalty and customer engagement.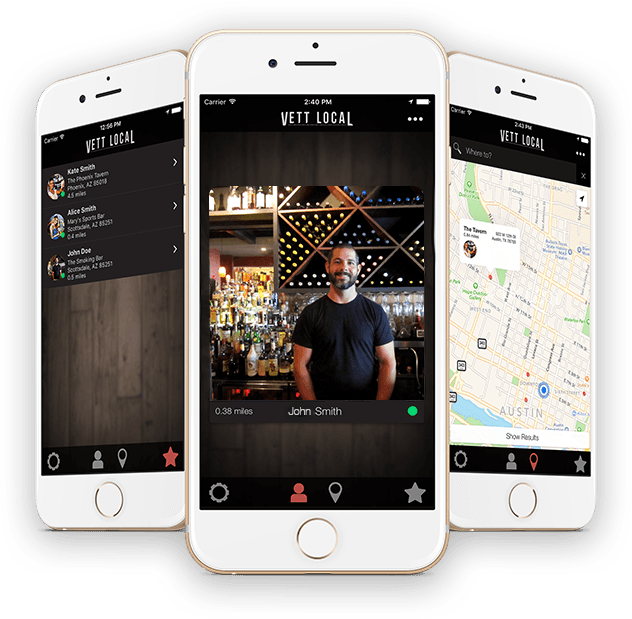 What Is
Mobile App Design

and How Does It Differ From App Development?

Mobile app design and development are tightly linked, but they differ in several important ways. Design refers to the aesthetics and flow of your app. What is the color scheme? How big are the navigation buttons and where are they located? What fonts will you use? How is the text laid out? What does the spacing look like? All these decisions and more affect the user's experience. The goal is to design a mobile app that is intuitive for first-time users, making it abundantly clear where to go and what to do to interact with it. Yet the app must remain engaging for repeat users, without letting them feel like they have already exhausted everything that it has to offer.

Mobile app development includes all of the nuts and bolts of achieving a great mobile app design. Think of design as the artistic vision and development as the behind the scenes technical work that brings that vision to life. You need a design and development team with the creativity and vision to turn your ideas into a fully-realized design, and the technical know-how to develop that design into a reality. Your team also needs to understand the differences between different app platforms and how to build an app that is competitive in your chosen market space. At The BHW Group, we know how to bring great apps to life, delivering them to their audience on time and at the right cost. We understand how to make your app stand apart from the crowd.
Who Is
The BHW Group?
Based in Austin, TX, the BHW Group is a leading web and mobile app design and development team. For more than 10 years, we have worked collaboratively with clients both large and small. We pride ourselves on our ability to design and develop entirely personalized solutions for each customer's needs. As a highly agile team, we are able to quickly respond to changing forces, but we know the difference between real changes and fads, and we are confident enough to stay the course when needed. Our goal is to empower you to take your business to the next level by providing you with the resources and know-how you need.
What Experience
Do We have?
We have experience designing and developing apps for both the Google Play and Apple App stores, as well as private internal apps for companies of all sizes. From flashy animations to native feature interactions, we have the skills and knowledge to make your vision a reality.
iOS App Design and Development: If you want your app to meet Apple's strict requirements for iPhone or iPad apps, you need a team that is highly familiar with the process. We not only know how to lay out a design that Apple product users will love, but how to bring it to reality in ways that meet Apple's criteria. We understand the differences between the iPhone and the iPad, and how to design an app that looks and feels engaging on each device. We also understand the market and know how to position your finished app to attract attention.
Android App Design and Development:More than one million brand new Android devices come into the market each day, and every one of those users is looking for new apps. Android uses open-source software that is free and available to everyone, and there are multiple versions of Android currently in use. All of this makes for an incredibly crowded marketplace, but Android users know all too well that not all Android apps deliver on their promises.
We know how to design your Android app in a way that will make it stand out and grab attention. We also have the technical expertise to ensure that it works across a vast array of Android versions and individual devices. For a small business that relies heavily on reviews and customer satisfaction, it is absolutely vital that your app grabs attention and keeps it, without veering off into technical difficulties. We can help you make that happen.
How Can the BHW Group Help You Design and Develop
Your App?
We have strong experience with older devices and platform versions, allowing us to create a design that works across a vast span of devices and operating systems. Yet we continue to research and innovate, pushing the limits of newer technology. Our creative vision allows us to take your ideas at whatever level they currently exist, from roughed out notes to fully developed drawings and plans, and turn them into a workable design.
However, we understand that your business is your baby. We work hand in hand with you to implement solutions that you feel will take your app in the direction you desire, and will never push to get our own way. We believe in true partnerships built on trust and respect, and our relationship with you does not end when the design and development process is over. We will continue to provide you with the support you need to make your new app a success.
What's

Next?

Do you need an expert in mobile app design? With a team of specialists covering a wide range of skill sets and backgrounds, The BHW Group is prepared to bring your vision to life. Contact us today to discuss your ideas.