Top 5 Reasons Why Mobile Apps Fail
Mobile apps have become a priority in today's always-connected world, and they provide a golden opportunity for small businesses to compete on a level playing field with the big boys. Yet customers have literally thousands of apps from which to choose, and it is easy for yours to get lost in the crowd. In addition, some apps are inherently broken, whether due to design flaws or unfocused ideas. To give your mobile app the best chances for success, make sure you avoid the top 5 reasons why they fail.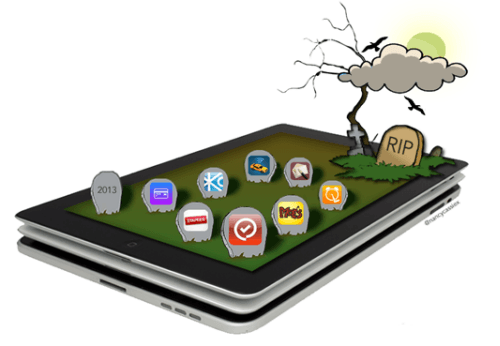 1. Not Providing Mobile Web Optimization
Mobile apps are a hot new trend, and many business owners jump into the market without a clear understanding of how they work within the larger context of digital sales and marketing. One of the biggest mistakes is creating an app too early. Customers expect apps to be not only engaging, but also useful.
The best way to make your app useful is to develop a full mobile framework around it. Optimize your website for mobile devices. Make it easy to contact you, order products, or schedule appointments from a mobile device. Then, once all the bugs are ironed out and your site is working well across a variety of mobile devices, design your app to fit into that framework. Otherwise, you risk alienating users from the outset.
2. Lack of Focus and Coherency
This also happens when you jump into the mobile app market too quickly. Many business owners know that they want an app, but they have little or no idea what they want the app to actually do. This can lead to the tendency to go for flashy bells and whistles over real substance, and your app just becomes a confusing mix of cool elements rather than a coherent whole.
Fight this issue by sitting down and drawing up an overall plan for your app. Decide what the message is, what you want your customers to do in the app, and how you will provide logical pathways. Then meet with your development team to create a full mockup before you begin. Remember, every element you choose should play an important role in supporting the main point of the mobile app, which should itself support your overall brand.
3. Designing for Your Brand Instead of Your Customer
At the opposite extreme, some business owners fall too deeply in love with their own brand. Like filling your website with a list of features rather than explaining how you can solve your customer's problem, designing your app for your brand rather than your customer is a recipe for disaster. To combat this tendency, perform market research to drill down on exactly who your target customer is. Then figure out how that person thinks, makes buying decisions, and interacts with technology. Design your mobile app to meet that person's needs.
4. Basic Design and Development Errors
Some mobile apps are doomed from the outset due to fundamental design and development flaws. The best way to protect your app is to hire a trustworthy mobile app team and form a partnership. You know your brand, while the development team knows the technology. Together, you can create a cohesive, tightly streamlined mobile app that conveys whatever your message is while following the best practices for app design.
5. Missing Engagement and Marketing Opportunities
In the crowded app stores, it is not enough to simply design and build an excellent mobile app. You also need to figure out how to promote it, and how to use it to engage with both current and potential customers.
To market your app and find engagement, maintain an active presence both on the web and on a variety of social media channels. Respond to customer reviews both inside and outside of the app. Remember that a negative review gives you the opportunity to take in valuable feedback for improvement, and to turn around the opinion of the reviewer. It also shows potential customers that they are valued, and that their opinions are taken seriously.
Also find a way to encourage customers to interact with each other. Depending on your brand, this might take the form of multi-player games, contests, forums, or something else entirely. Make it easy for early adopters to share your app with their friends and family, and create a reason for them to keep coming back.
Do you need an expert in mobile app development? With a team of specialists covering a wide range of skill sets and backgrounds, The BHW Group is prepared to bring your vision to life. Contact us today to discuss your ideas.